.
.
.
.
.
.
.
.
.
.
.
.
.
.
.
.
.
.
.
Evolution Origin of Life Big Bang Theory Cosmology Genesis Kabbalah Sufi Mysticism Jewish Taoist Reality Quantum Relativity Universe Science Religion Spirituality God Allah Bible Torah Codes Taoism Judaism Christianity Islam Buddhism Buddha Hindu Sihkism Kabbalah Sufi Mysticism Jewish Taoist Reality Quantum Relativity Universe Reality God Qur'an torah codes proof of god's existence allah infinite wisdom eternal awareness omniscience omnipotent omnipotence omnipresent omnicient almighty lord creator love mysticism science religion bible koran christ judiasm judaism hindu hinduism buddha buddhism buddhist tao taoism shiva vishnu tantric buddhism moksha jainism stupas confucianism shinto torah messiah kabbalah jerusalem zion crucifixion jesus christ son of god islam allah muhammad qur'an sufi mosque temple holy bible scriptures mystery mysteries universe quantum physics evolution dharma vedic trinity brahma agni nandi indra surya vayu varuna veda aranyakas puranas mahabharata ramayana krishna puja brahmin priests shrine worship jaina jain sutra cosmos einstein's theory of relativity ufo pyramids sumeria sumerian tablets visitors from outer space quantum reality black holes zen new testament old testament bible code proof of god

(Excerpt from the debate: Lydia vs Chester - Spring of 1994)

Evolution

Science deals with facts. Fact is; the Universe is at least 15 billion years old and the earth is at least 4.5 billion years old. Genesis is a great story but the earth has been here a lot longer than 6 thousand years. The Big Bang Theory has years of scientific evidence to support it. Additionally the fossil record shows us that life began on this planet in a very primitive state, and through the process called Survival of the Fittest, continued to slowly improve until life exists as we know it today. I'm sure you are familiar with the statistical argument that although it is possible for the molecules of amino acid to randomly combine to form DNA and very simple life, however the chance of it happening is so remote, it would take a trillion universes a trillion years just to have a 50/50 chance that a single molecule of DNA to form. This is known as the improbability argument against the spontaneous evolution of life from simple molecules. However, science once again comes to the rescue. Quantum Reality experiments have shown us data that is best explained by an infinite number of universes. In essence, every time there is a quantum event at the sub atomic level, the universe splits. One universe has one possible result and the other universe contains the alternate result. It might be difficult to imagine an infinite number of universes in parallel with ours, however, the brightest minds of science ascribe to the many worlds solution to quantum reality. Follow the logic with me. An infinite number of universes would contain at least one universe where random formation of DNA and the evolution of simple life could occur. By combining the evidence of the Big Bang with the evidence of Quantum Reality we can trust the evidence of the fossil record to mean what is shows us plain and simple. Life evolved on this planet, as improbable as it may seem. The facts support this theory much better than the Genesis account of creation. Genesis describes a universe and an earth only 6 thousands years old, and the evidence points to an earth billions of years old.

(End Excerpt from Chester's Debate Logic - spring 1994)

Lydia's Debate Logic | Chester's View | Master's View | Lydia's View | The Story







---
Evolution Related Links
---
Main | The Story | God | Religions | History | Prophecy | Wisdom | Misc
Copyright © Internet Innovations, Inc - 1998, 2013 All Rights Reserved
$3.99 Kindle eBook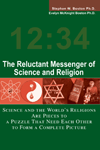 Buy from Amazon.com
The Essential Teachings of Herbert W. Armstrong



His Teachings Focused on The Incredible Human Potential. Did He Solve the Mystery of the Ages?
New Book about HWA's Teachings. Recommended!