.
.
.
.
.
.
.
.
.
.
.
.
.
.
.
.
.
.
.
Lydia proves God exists with Torah codes Kabbalah Sufi Mysticism Jewish Taoist Reality Quantum Relativity Universe Science Religion Spirituality God Allah Bible Torah Codes Taoism Judaism Christianity Islam Buddhism Buddha Hindu Sihkism Kabbalah Sufi Mysticism Jewish Taoist Reality Quantum Relativity Universe Reality God Qur'an torah codes proof of god's existence allah infinite wisdom eternal awareness omniscience omnipotent omnipotence omnipresent omnicient almighty lord creator love mysticism science religion bible koran christ judiasm judaism hindu hinduism buddha buddhism buddhist tao taoism shiva vishnu tantric buddhism moksha jainism stupas confucianism shinto torah messiah kabbalah jerusalem zion crucifixion jesus christ son of god islam allah muhammad qur'an sufi mosque temple holy bible scriptures mystery mysteries universe quantum physics evolution dharma vedic trinity brahma agni nandi indra surya vayu varuna veda aranyakas puranas mahabharata ramayana krishna puja brahmin priests shrine worship jaina jain sutra cosmos einstein's theory of relativity ufo pyramids sumeria sumerian tablets visitors from outer space quantum reality black holes zen new testament old testament bible code proof of god

Lydia

Lydia: A woman from California on a personal spiritual quest. She met Chester in Oakland at a symposium highlighting the debate of evolution vs creation. She had a secret weapon, fresh from a trip to Israel, she had obtained a copy of a newly published paper that used a computer program to prove God existed. She met Chester in the fourth and final round of the debates.

Lydia's View

Once I understood the significance of the Torah Codes, I changed my whole approach to my debate. Instead of trying to counter archaeological evidence, I jumped at computer evidence to prove the Genesis account of creation!

Lydia's Debate Logic | Chester's Debate Logic | Chester's View
Master's View | Paul's View | Tina's View | The Story

Continue with The Story.

Watch the Main Page for any announcements concerning updates to this section.
---
Main | The Story | God | Religions | History | Prophecy | Wisdom | Misc
Copyright © Internet Innovations, Inc - All Rights Reserved
$3.99 Kindle eBook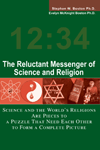 Buy from Amazon.com
The Essential Teachings of Herbert W. Armstrong



His Teachings Focused on The Incredible Human Potential. Did He Solve the Mystery of the Ages?
New Book about HWA's Teachings. Recommended!